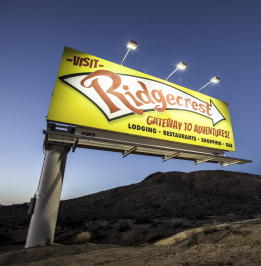 Ridgecrest is full of sunshine, fresh air and independent spirits who enjoy our casual lifestyle. There are lots of things to do here including: four wheeling, horseback riding, rock hounding, and camping in the close by Sierra Nevadas and the uniquely beautiful Death Valley. Ridgecrest has many cultural, entertainment, and educational points of interest.
Ridgecrest is located in the northeast corner of Kern County in the Indian Wells Valley. It is surrounded by four mountain ranges; the Sierra Nevada on the west, the Cosos on the north, the Argus Range on the east, and the El Paso Mountains on the south. It is just over an hour from the Lancaster/Palmdale area and approximately two hours from both Bakersfield and San Bernardino.
A favorable characteristic of the City is its proximity to two major highways, the 395 and 14. Air travel in and out of the city is provided through the Inyokern Airport. These attributes make Ridgecrest, a central location for shopping and business for the Eastern Kern County area. Ridgecrest is also easily accessible to the rest of southern California making it an ideal location for industry.
Ridgecrest evolved into a growing and dynamic city during the 1950's and 1960's as a support community, vital to the mission of the Navy, by providing housing and services for Federal employees and contractors. Ridgecrest incorporated in 1963 and now provides shopping for over 40,000 people throughout the Indian Wells Valley.
China Lake Naval Air Weapons Station (NAWS) is one of the major employers for the residents of Ridgecrest. Ridgecrest is large enough to provide the needed services such as medical, shopping, and schools, but still small enough that you don't feel like you live in the "big city".
If you have any questions about Ridgecrest, or if you are interested in buying or selling property in Ridgecrest, please call Carol today at (760) 446-5959 or
click here
to send Carol an email.